When I moved to Cave Creek from New Jersey (The Garden State) in seventh grade, I remember heading east on Carefree Highway and hearing my mom say, "This is it!" When I squinted I could see houses dotted in the basin of brown mountains. Some huge, imposing mansions halfway up and near the tops. No stores. No trees as I understood the term. I had never seen a saguaro before.
I hated the landscape for a good long while. The smell of creosote after rain (which I now love) made my sister and I gag. It took time to acclimate to the heat. To wear the right thing. To drink the right amount of water. To not walk, not take your bike, but definitely drive during five months out of the year. Elias showed me the washes.
Although I lived in a development, many of my friends lived on dirt roads through thickets of mesquite and palo verde and prickly pear and jumping cholla and the usual suspects. Some of the houses were model homes - unique but sterile. But some captivated me, like the adobe homes in Mexico would do years later. I came to love the chalky, porous feel of saltillo tile on my feet. The sound of a car crunching rocks on the dry gravel. The small ranches erected in the 50s - when there was TRULY nothing here - that's the kind of house Elias lived in.
His dad was the mayor of Cave Creek when I knew him. That shouldn't conjure what normally comes to mind. Vince (I was to call him this, not Mr. Francia) was a passionate conservationist; noticeably, intimidatingly, warmly smart like his son, my friend. He smoked. He wore dated glasses. He had a wife named Amelia. They didn't have a dishwasher. I loved that house and the desert around it. It taught me how to feel cozy here; how when the sharp and harsh flora grew untamed, it could encompass a property with its arms.
Cut through the desert landscape are a series of washes. Before moving here I didn't know what that meant. Jagged, v-shaped tunnels with no top zig-zagging everywhere, everywhere. And when the rains came they would fill with fast water. But for the rest of the year I found home in them. I would sit in them and write in my journal. Smoke cigarettes stolen from my friend's mom. Burn poems about lovers. When I got older, we would hang out there was a crew and smoke weed. No phones to distract us from that most meaningful pursuit. And when a runner or someone walking their dog would show up in the distance, we'd run. Can you visualize it? It's a long ditch.
Somewhere in those ditches and on the roof of Elias's house (where I meditated for the first time - something my blue collar family would have laughed at) I fell for this inhospitable place. It doesn't welcome you like grass; you can't sit or lie down comfortably here. It's a sojourners beauty. Best interacted with by hiking. By ascending to mountain tops and looking at the rolling mountains like waves. So much housing, perfectly gridded streets. But in the desert - silence. Peace. Quiet, perservering life.
Vince worked to preserve this place - Spur Cross Ranch Conservation Area. I have hiked here as a teen cleansing myself from the battery and yelling of an alcoholic house. And it worked. Step, step, step. I have photographed here during college, using filters and modeling and having no bills but rent, food, gas and a cell phone. And now I bring my babies here to play in the creek when - against all possible odds - it sometimes fills with warm rainwater.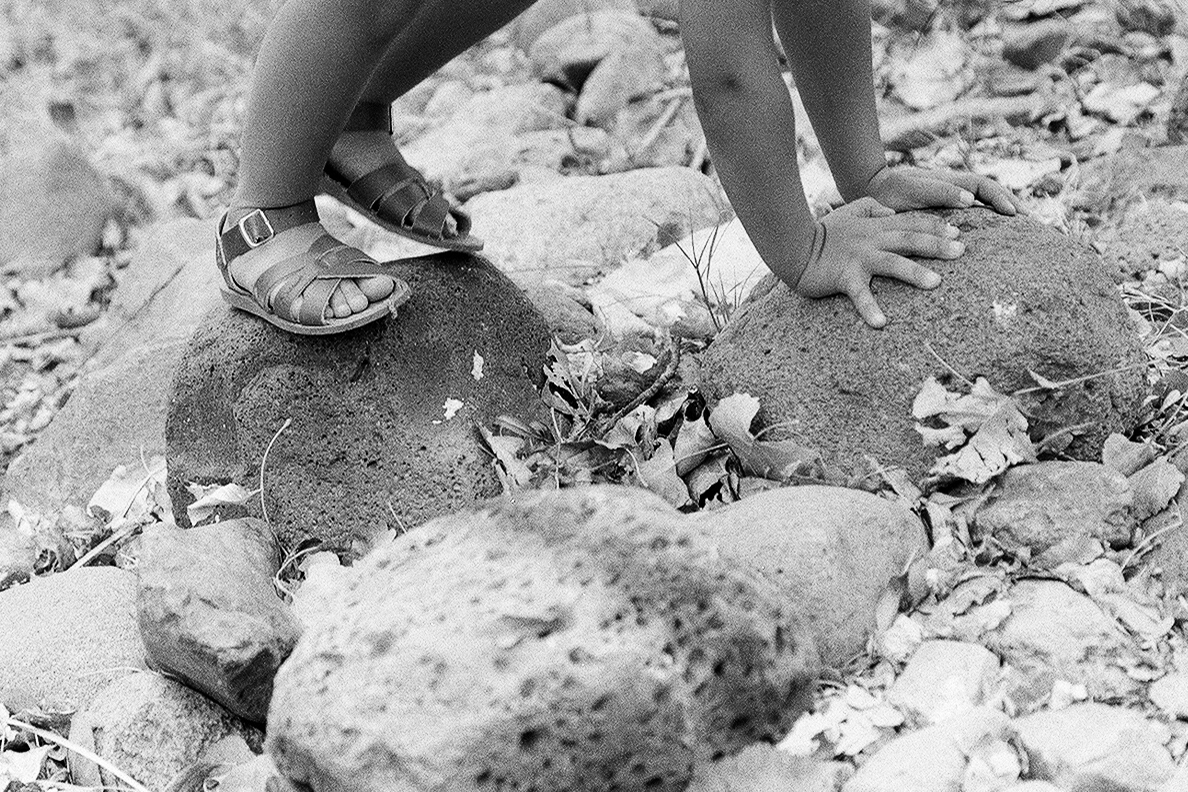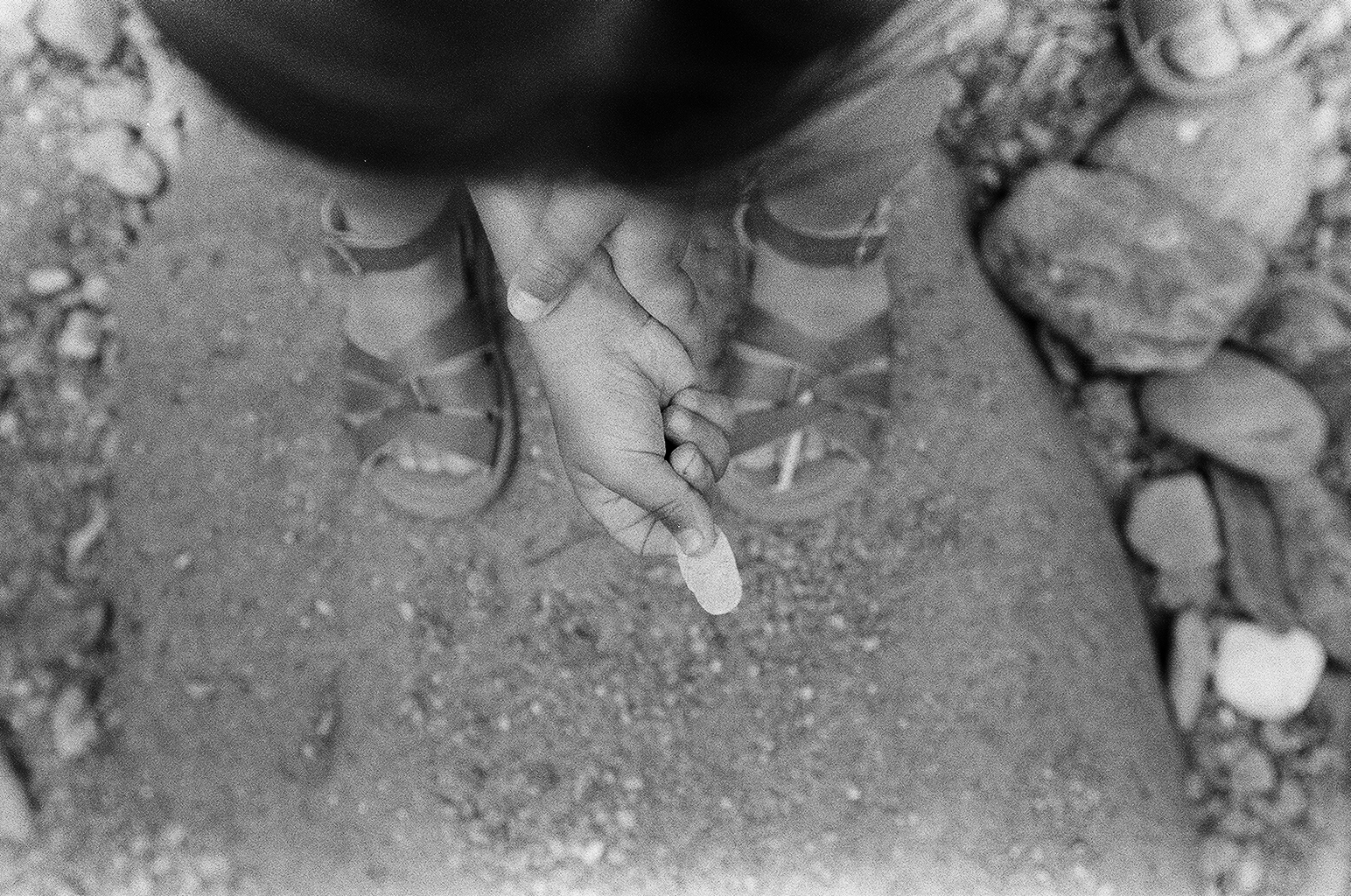 As I experiment further with film, I am learning how to match form and content according to my voice. When I have shot black and white 35mm of children, I have sometimes found myself wishing it were color. Polaroids befit pretty much any setting, but I try to use them strictly for artful ends instead of family documentation. There's something slightly sacrilegious to me seeing regular family happenings (like eating an ice cream cone) on SX-70. But if that same cone were being eaten in miraculous light - the $2.25 photo is miraculously justified. I tend to favor digital, consumer films and instax for memory-keeping.
These photographs were shot on Tri-X 400 using the $10 Canon Elan my mom got me from a garage sale, with the considerably more expensive Canon 24-105 L lens. The polaroids were shot on my beloved SX-70, who never fails to transform the quotidian into instantly drippy, meaningful memory. My intent is to shoot each readily-available 35mm film and as much rare, experimental and expired stock I can get my no-spare-money-for-extensive-film-hobby-but-somehow-I-press-on hands. Although people, portraits and the human story are my main photographic material, the urge to explore place is equally as strong. This is the desert I call home.
With love
A